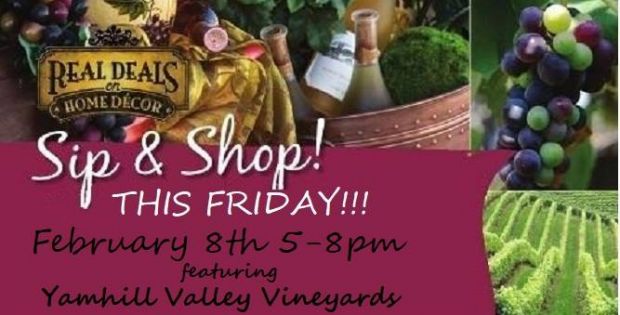 Sip and Shop at Real Deals in Mac
Feb 8, 2019 5:00 pm - 8:00 pm
FREE WINE + APPETIZERS + REAL DEALS SHOPPING = BEST FRIDAY EVER!
Who needs Friday plans? We got you covered. Its time for a SWEETHEART SIP & SHOP!

Join us on Friday February 8th from 5-8pm and enjoy delicious wines and appetizers while you shop. It doesn't get any better than that. We will be your HAPPIEST HOUR before you head out for dinner and fun. WE have the crowd favorite Linda Arnold Werner from Yamhill Valley Vineyards pouring for us! As always, she will have some of her favorites and a few surprises in tow for sale as always!

Bring your friends and enjoy with us!