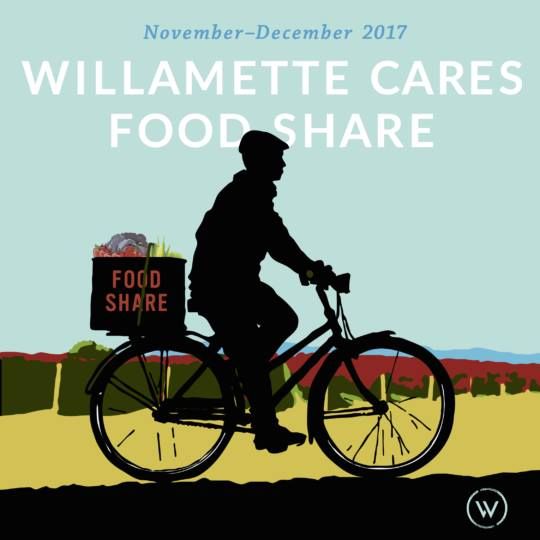 Willamette Cares Food Share
Nov 1, 2017 - Dec 22, 2017
The Willamette Valley has the complex soils and unique climate to produce some of the finest Pinot noir in the world. But day after day, vintage after vintage, we're reminded that our people make this region special. Ours is a community of collaboration, generosity and idealism. We've learned that we're stronger working together than working apart. And we believe no one should be hungry. November 1st through December 31st, Willamette Valley wineries and partners are teaming up to provide emergency food for our neighbors in need and support for fresh food programs through the Oregon Food Bank Network. It's our opportunity to share our bounty during the holiday season and to give back to the people of our community. Won't you join us? Visit any of the participants listed below with food or funds to contribute. Many wineries are offering discounts, tastings, or sweepstakes drawings to support the Food Share. Visit and donate during Wine Country Thanksgiving, one of our biggest events of the year. Note: winery hours vary. Please consult individual wineries before visiting.

At Yamhill Valley Vineyards we will be collecting both food and cash donations for the Yamhill County Action Partnership (YCAP).

--- Each can of food you bring in earns you one complimentary taste of wine; 5 cans earns you a complimentary flight (5 tastes)!

--- Tall Poppy Sweepstakes: A suggested donation of $10 gets you one ticket in the drawing of a bottle of 2012 Tall Poppy; $20 gets you THREE tickets...you do the math :)

So load up your car with cans of food (or some spare Hamiltons!) and make the most out of your wine tasting experience!

Cheers!