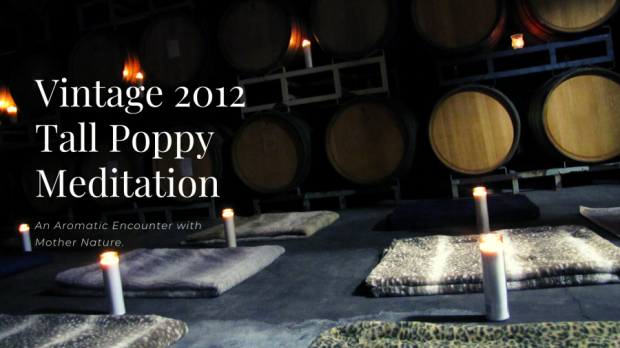 Vintage Meditations - The Story of 2012 Tall Poppy
Dec 15, 2019 6:00 pm - 7:00 pm
Nikki Cloud will be guiding a meditation experience in the Barrel Library as she tells the story of our 2012 Tall Poppy Single Block Designate. We will be releasing a few of the only bottles left of this legendary Pinot Noir for this intimate one-night exclusive.
Relaxing under candlelight feel your senses come alive as you savor the history and the elements of this velvety vintage. Inhaling, sipping and savoring a glass of this masculine bouquet feel yourself become moved by its complexities. Picked October 14, 2012 from the oldest planting of the vineyard, Old Pommard (planted in 1983) which is known to be the heart and soul of Tall Poppy. 2012 was an epic growing season - summer was dry and warm, with cool nights that the Pinot Noir needs for perfect ripening. The bloom encouraged beautiful fruit which allowed us to select only the finest clusters. The balanced fruit that results from Old Pommard is the best from our estate. Dark, supple, rich, and timeless, a true illustration of Yamhill terroir.
This event is free for our wine club members and $40 for non club members. We have limited space so please RSVP and look forward to this evening. You will have the opportunity to purchase this vintage after the meditation. It's truly the centerpiece to any experience !
RSVP - linda@yamhill.com or Purchase Tickets Here
| | | |
| --- | --- | --- |
| |   | Dec 15, 2019 6:00 pm - 7:00 pm |