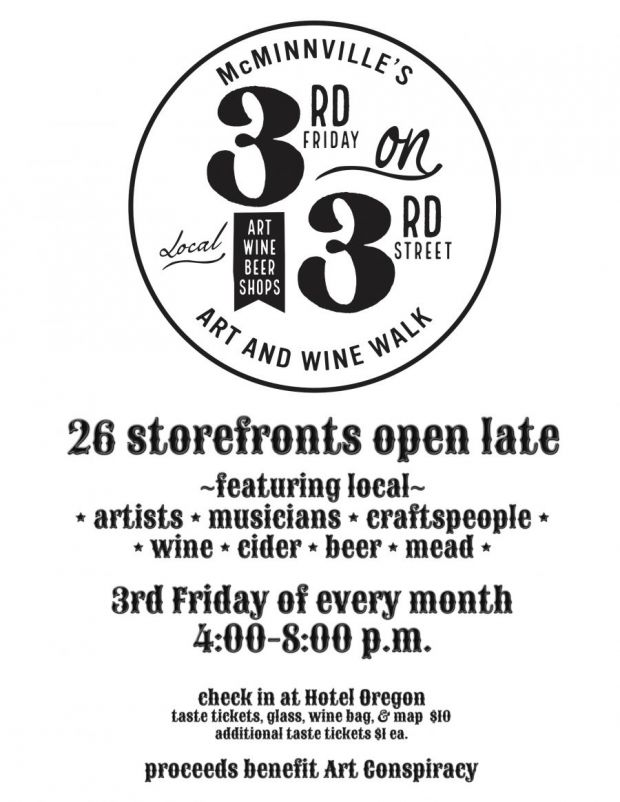 3rd Friday on 3rd Street!
Sep 21, 2018 4:00 pm - 8:00 pm
We are so excited to present to you, 3rd Friday on 3rd Street or 3rd on 3rd as we have come to call it.
You can find us at Found Objects!

Showcasing 26 (and counting) carefully curated storefronts open late and featuring local artists, craftspeople, musicians, mead, beer, wine, and cider on a six block stretch of 3rd Street in McMinnville.

3rd Friday of Every month. 4:00-8:00 p.m.

Come down, check in at Hotel Oregon,

Spend your $10 and receive 5 taste tickets, a commemorative glass, a wine bag, and a map of the event.
additional taste tickets are available for $1 each.
Proceeds Benefit Art Conspiracy.
Phone:
 
5038433100
Email:
 
jenny@yamhill.com
 

Apr 20, 2018 4:00 pm - 8:00 pm
May 18, 2018 4:00 pm - 8:00 pm
Jun 15, 2018 4:00 pm - 8:00 pm
Jul 20, 2018 4:00 pm - 8:00 pm
Aug 17, 2018 4:00 pm - 8:00 pm
Sep 21, 2018 4:00 pm - 8:00 pm