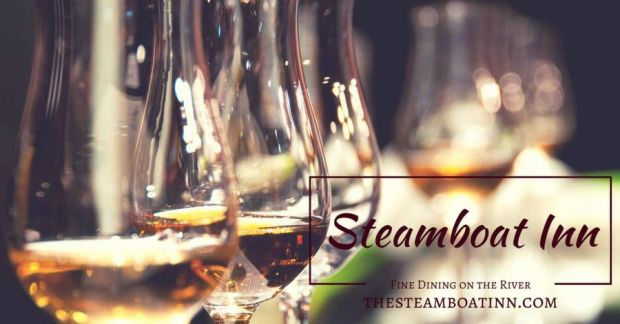 Guest Chef and Winemaker Dinner at Steamboat Inn
May 31, 2019 7:00 pm - 11:00 pm
Winemaker: Yamhill Valley
Guest Chef: Nick's Italian Cafe
Yamhill Valley Vineyards
Nick's Italian Cafe

For more than 25 years the best chefs and winemakers from around Oregon have joined forces at Steamboat Inn to create a special night of food, drink, and friendship. Reserve your place at the table and join the tradition. thesteamboatinn.com 541-498-2230

The evening starts at 7pm in the Library with appetizers and moves to the dining room for a multi course meal paired with wine and followed by dessert. Reservations are required.
The Menu:
First Course: Antipasti-including Charcuterie board, paired with 2015 Yamhill Valley Vineyards Pinot Blanc
Second Course:
Minestrone soup with pesto paired with 2016 Yamhill Valley Vineyards Chardonnay
Third Course:
Pork and cheese Stuffed ravioli paired with 2018 Yamhill Valley Vineyards Rosé of Pinot Noir
Fourth Course:
Mixed green salad with rice vinaigrette paired with 2015 Yamhill Valley VIneyards Estate Pinot Noir
Fifth Course:
Marinated rack of lamb with sautéed Snap Peas paired with 2014 Yamhill Valley Vineyards Pinot Noir Reserve
Dessert:

Zabaglione paired with 2014 Yamhill Valley Vineyards Riesling


$100 per person

See all of our Guest Chef and Winemakers Dinners at https://www.thesteamboatinn.com/dining#special-dining-events